Certification
Validate your expertise and become certified as a Pulsar developer by the original creators of Apache Pulsar.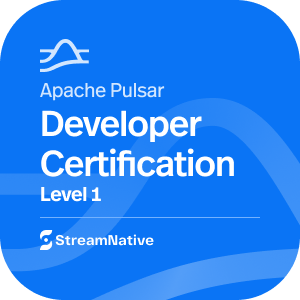 StreamNative is launching a Developer certification program.
Level 1 Certification: Developer Fundamentals
Level 1 certification is now available for developers, architects, and others wishing to demonstrate their mastery of Apache Pulsar fundamentals.
To learn more about the certification exam and how to register, click on the dates below:
Prerequisites
To successfully complete this certification, you should either have previous experience using Apache Pulsar or be proficient in using documented APIs and asynchronous Java programming. NOTE: This course does not include hands-on examples of using Apache Pulsar's Java APIs.
If you are unsure whether or not you meet these requirements, please contact the training team at training-help@streamnative.io.
Course Prep
You may take the course, Practical Apache Pulsar Application Development, as preparation for the Level 1 certification.
For course information and registration, click on the dates below: